Even with the extension, do not underestimate the time needed to get into compliance. Build your SEPA toolkit today.
Penalties for infringements of SEPA regulation
Have you taken the steps needed to comply?

All businesses making or receiving payments in euros are obliged to comply with the SEPA legislation. Those that have not yet begun the move must do so now to avoid potential penalties or fines. Businesses that delay their SEPA migration programs any further will inevitably fail to meet the extended deadline and incur significant penalties.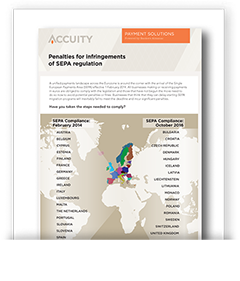 View this infographic to learn about:
•

Defined national penalty provisions in each Eurozone country

•

What countries adhere to the 2014 SEPA regulation

•

Who the competent authority is for each country

There are cases where the fines become more severe for each subsequent infraction of the SEPA rules—ensure you have plans in place before time runs out.