Even with the proposed extension, do not underestimate the time needed to get into compliance. Build your SEPA toolkit today.
IBAN: Is the SEPA End Date an Obstacle or an Opportunity?
This article highlights ways that you can capitalize on the cost savings SEPA is designed to create as well as identifies some of the significant pitfalls of SEPA compliance.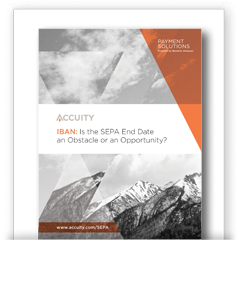 Read this article to learn about:
•

the current rate of uptake in complying with the SEPA regulations

•

a new payments reality and common standards

•

how to successfully meet the challenges of the upcoming end date

Uncover the many complex logistics that need to be addressed now with our easy reference tool—15 Steps to Becoming SEPA Compliant — included in the article.